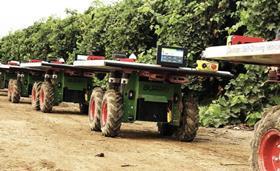 The California Table Grape Commission (CTGC) is helping the state's growers mechanise and automate their operations through a number of research and development projects.
The move is aimed at reducing costs and improving the efficiency of tasks in Californian vineyards.
One of the priorities of the work is to minimise the movement of labour. CTGC said a time and motion study conducted on harvest activities has helped the industry understand where and how much time is spent on picking and packing tasks.
A second time and motion study on in-house packing is in the process of being completed. The goal of this study is to "understand how labour is distributed across tasks and facilities," according to a CTGC media release.
CTGC said another priority is to introduce automation to the harvesting of table grapes.
"This work is being done with the use of autonomous carts that aid in-vineyard movement of freshly harvested grapes," the media release added.
"Other cart capabilities being tested include utilising sensors to detect ripe berries and robotics to pick ripe berry clusters without damaging the fruit.
"Other sensor research and development includes crop mapping and estimation via cluster counting, berry size measurement, and berry colour detection as well as remote monitoring for increased water use efficiency."
CTGC is also researching mechanised tools to improve pruning efficiency, including hand-held battery-powered pruners and tractor-mounted mechanical pruners workable in table grape trellis systems.