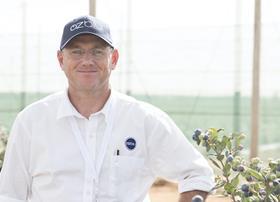 A South African farmer is in danger of losing their rights to grow premium blueberry varieties marketed under the OZblu brand after continuous breaches of a license agreement.
The United Exports Group of Companies, which licenses the OZblu varieties to growers, received a tip-off that someone had been illegally selling its fruit.
"We subsequently hired a private investigator who provided the evidence and confirmed our suspicion," said Roger Horak, founder and global CEO of United Exports.
"Despite having photographic evidence and affidavits relating to the breach, we still required scientific proof that the fruit which had been sold was an OZblu variety."
Horak said all OZblu varieties and related plant material have been DNA fingerprinted by a specialised laboratory in the US. The DNA fingerprints are kept on record to enforce patent protection of the OZblu plants and the fruit.
"We packaged some of the confiscated, illegally sold fruit and sent it via courier to the US laboratory," Horak explained. "Within one week they had confirmed that the tested fruit was part of our proprietary varieties, namely OZ Julietta and OZ Magnifica. This information allowed United Exports to take the required action."
The grower who sold the varieties to un-licensed producers is understood to have acknowledged their wrong doing, with a remedy solution now being sought.
A standard term of growing under license to United Exports includes a number of events that can lead to termination without notice. On-selling plant material without approval is one such trigger clause.
United Exports has advised all of its growers that a zero-tolerance approach will be applied going forward.
"For the most part, we have a wonderful team of growers, growing our premium blueberries, which we sell under the OZblu brand into Europe, UK, USA, Asia and South Africa," Horak said.
"This process is as much about protecting our investments as well as our growers' investments, and in this case, it was a concerned grower that provided us with the initial information."