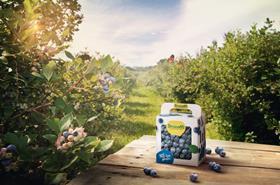 Having launched a new range of paper packaging in Europe last year, berry leader Driscoll's of EMEA is now expanding to new pack sizes and concepts to meet new consumer demands.
'An average European consumer creates over 30kg of plastic waste per year, and the vast majority of that waste is not recycled,' the company stated. 'Consumers are craving for better solutions and governments are actively forcing producers and retailers to reduce the amount of single use plastic across categories.'
Therefore, Driscoll's has committed to reduce the amount of plastic used in its packaging, balancing out functional aspects – particularly food waste prevention, durability, recyclability, versatility – and the responsibility to protect the environment.
Driscoll's said it believed every step taken together with consumers was 'a step towards a better future'.
After successfully launching in Europe with its 125g conventional berry pack, Driscoll's released a range of organic berries packed in paper earlier this year – described as 'a logical step to meet the needs of the conscious consumer'.
Driscoll's will present its latest innovation at the upcoming Fruit Logistica, namely its 500g Family Snack Pack for blueberries.
The pack is described as easy to open and close, perfect for the daily consumption of the fast-growing blueberry category and with 98 per cent less plastic.
The new packaging is made from FSC-certified paper, meaning paper made from well-managed sources.
A greater reduction in plastic use will result in 'thousands of kg' in savings of single use plastics in Europe alone, while still offering a good look on the shelves.
'During Fruit Logistica Driscoll's will demonstrate all new pack types and present the perfect berry display, which totally breaks with the traditional way that berries are displayed,' it added.