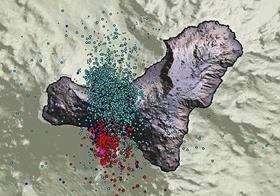 Concerns over a possibly imminent volcanic eruption on El Hierro, the smallest and most south-westerly of the Spanish Canary Islands, have so far not affected supplies of bananas, pineapples and other fruits from the archipelago.
Beatriz Duarte, managing director of El Hierro-based supplier Cooperativa del Campo Frontera, told Eurofruit that business was 'continuing as normal' and, despite the company being in the same town as the volcano, La Frontera, there had been no impact on the business as yet.
Experts reportedly fear landslides could affect the town, while in the past few days the possibility, albeit slim, of a volcanic eruption through a new vent has raised concerns.
As of Thursday (29 September), the cooperative had not been obliged to evacuate its premises or make changes of any sort, with transport and logistics operations said to be unaffected.
'La Frontera is a small town and on Tuesday night (27 September) a small number of people were asked to relocate as a precaution,' Duarte said.
'People are naturally a little nervous, but they have full trust in the authorities who are monitoring the situation closely.'
Frontera supplies fruit, including bananas and pineapples, to the neighboring island of Tenerife, from where it is forwarded to mainland fresh produce company Eurobanan.