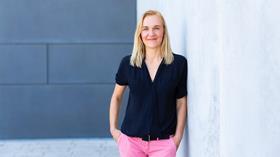 Madlen,where are you with registrations for Fruit Logistica Special Edition? Is there enough capacity if demand increases even further in the short term?

Madlen Miserius:By the middle of January, more than 500 exhibitors have registered for Fruit Logistica Special Edition. We understand that in the circumstances we have to be flexible and we need to help companies who need they want more time to decide to take part in May.
How international is this year's Fruit Logistica? Is it a global event or is the focus more than usual on Europe due to the Covid-19 pandemic?
MM: We've got registrations from exhibitors from more than 50 countries, so Fruit Logistica Special Edition is going to be very international. But you are right, we have noticed that more and more exhibitors from Europe are registered at this time. And particularly well as the largest country participations are top five fresh produce trading nations, namely Italy, Spain, the Netherlands, France, and Germany.
What has been the response of food retailers to Fruit Logistica Special Edition?
MM: Fruit Logistica Special Edition is an exclusive event at which exhibitors can meet trade visitors, and vice versa. It's why we've developed a buyer programme. We're offering buyers a Covid-safe business lounge at which they can meet on site or online with their partners from the fresh produce industry. Our Buyer Programme also includes free use of matchmaking tools and free access to all relevant events on site and to the online conference programme.
What offers such as digital do you have this year to bring the entire supply chain together and to open up business opportunities?
MM: Connect Online. Meet Onsite' is how we're pitching Fruit Logistica Special Edition. It means we complement the on-site experience with a range of digital offers. These online tools help attendees better plan their visit, connect with key industry players, and strengthen their business relationships.
The digital package includes the online planning of business meetings, the online presentation of the participating companies, and the online presentation of the entire event programme. It is aimed at trade visitors and buyers who cannot attend on-site due to travel restrictions. They can get in touch with the exhibitors who will be there.
Innovation is a key element at every Fruit Logistica. What role does it play in the 2021 edition? How will you implement it?
MM: Business, information, and innovation are the three cornerstones of Fruit Logistica. And for this year we've developed a new, exclusive area called The Innovation Club. This area presents trade visitors with all future innovations across the value chain. It's here where you can discover innovative companies with extraordinary new products or solutions in their own exhibition area, it's where you can vote for the nominees for FLIA, the Fruit Logistica Innovation Award. Future Lab is also part of The Innovation Club, it's where business experts highlight the big future industry issues will drive the market thought the next half-decade.
The pandemic has boosted the move to digitalisation in a very big way. Is Fruit Logistica making part of its future and how will it be integrated into its trade fair concept for the future?
MM:During the pandemic we are moving to a 'new normal': digitalisation is finding its way into so many areas of our daily life. The demands of our exhibitors, partners, and visitors are also changing too. We must take this into account. That's why Messe Berlin is already working on a concept for the time after the pandemic. It's what we're calling 'Messe Plus'.
The fresh fruit and vegetable business thrives on personal contact and face-to-face meetings, which is rather different to many other sectors. Digital doesn't offer that same level of contact, and that helps Fruit Logistica as a physical event…
MM: We also see it this way: trust only develops with personal exchange. But the point is not that we make it easy for ourselves. The point is that we offer our customers, our exhibitors and trade visitors, an event with added value. Our aim is to give you the best insights and the best innovations, and that you benefit from the best networking opportunities. In short: we want to enable you to do the best possible business. We're develop our concept for Fruit Logistica 2022 on this basis too. We want to ensure that our on-site event is enhanced by digital elements too.
Michael Schotten is an editor for Fruchthandel Magazine, the leading publication for the fresh produce business in Germany.