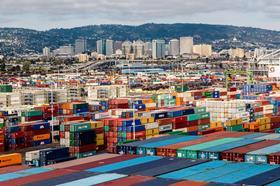 The Port of Oakland has had a record-breaking September for imports.
The US port handled 93,916 TEU import containers last month, eclipsing the previous September record of 84,901 TEUs, set last year.
Export volumes were also up 5 per cent compared to September 2019. The total TEU volume for September (2020) was 225,809, up 9.3 per cent year-on-year.
The port attributed the boost in imports to US retailers stocking up in preparation for the holiday shopping season.
Retailers are also believed to be hedging against another possible Covid-19 wave this winter.
"Several months into this pandemic, we are now seeing positive signs by these cargo volume totals," said Port of Oakland maritime director Bryan Brandes.
"As retailers make sure shelves are well-stocked, we're waiting to see if consumers begin shopping early this holiday season."
Enjoyed this free article from Asiafruit Magazine? Don't miss out on even more in-depth analysis, plus all the latest news from the fresh produce business. Subscribe now toAsiafruit Magazine.