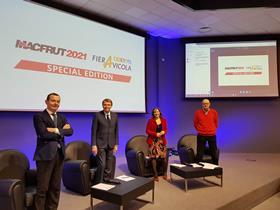 Macfrut, the International trade fair for the fresh produce industry, will be held again at the Rimini Expo Centre from Tuesday 7 to Thursday 9 September 2021.
Billed as a special edition with a new format and activities, it will be preceded on Monday 6 September by The China Day, a major event exclusively dedicated to business with China.
Previously scheduled for 4-6 May, it is not just the dates that have changed. Macfrut's special edition will also combine the essential role of a business fair as a chance to meet in person with the opportunities that the digital world offers to companies seeking to expand their business abroad.
The event's brand new format will use the knowhow gained from its previous 37 editions and add what it describes as a "groundbreaking online experience" that was successfully introduced with the recent first edition of Macfrut Digital.
Those taking part in Macfrut 2021 will have not only a stand on site at the trade fair, but also a virtual stand on the digital platform macfrutdigital.com, allowing them to expand their business opportunities in both directions.
Several focus areas
Macfrut Special Edition will focus on several different areas relevant to the world of fruit and vegetables.
Its official partner region is Sardinia, a region located in the heart of the Mediterranean and renowned for high-quality agricultural produce such as its PDO-certified artichokes (carciofo spinoso) and saffron.

Elsewhere, the Biosolutions International Event, which will be dedicated to the biostimulant and biocontrol supply chains. It will feature an international exhibition dedicated to biostimulant producers, and aimed at agricultural entrepreneurs and sector professionals.
In addition, there will be guided visits and an International Congress that connect Mediterranean production chains with the world of biostimulants.
New for 2021 will be the Italian Retailer Business Lounge, an exclusive area for the modern retail trade and Italian distributors. Here, targeted meetings with exhibitors will be organised through a dedicated business matching programme in collaboration with Think Fresh by Agroter.
International Asparagus Days also returns for what will be its fourth edition, but the first to be held simultaneously with Macfrut.
Its focus is on the entire asparagus industry, with an exhibition area hosting specialist companies and a conference area providing the latest technical and commercial updates.
Last but not least, the B2B Meeting Agenda will offer visitors the opportunity to manage their time at the trade fair by planning meetings through their virtual stand, which will be made available to all exhibitors who join the initiative.
It will be possible to organise meetings on site, for those who will physically participate in the event, or online for those who will be connecting remotely.
Exhibitors can also prepare their own meeting agenda in advance by scheduling appointments with specially selected international buyers.
Looking to the future
Renzo Piraccini, president of Macfrut, comments: "Once again, Macfrut has pioneered an innovative, future-oriented project. There is a great desire in the industry to meet in person, to enjoy the human contact that we have been longing for such a long time."
He adds: "At the same time, we are aware of the fact that the current situation has completely changed the way we see things. The Macfrut Special Edition, scheduled for 7-9 September, addresses both needs: physical presence and digital opportunities.
"Last September, we were the first to organise a virtual trade fair for the fruit and vegetable sector, and we want to be the first to offer an innovative format that combines a physical and digital trade fair in one."