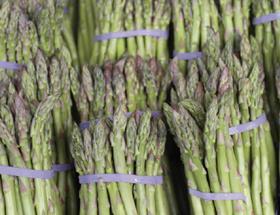 Asparagus and avocados are two of Mexico's most popular fresh produce exports.
For avocados, production from the state of Michoacan is already approaching mid-season.
Although asparagus is grown virtually year-round across multiple regions in Mexico, one of the major deals of the year is just getting under way. Here's an update on both fresh categories.
Asparagus
According to Jim Hansen of Grower Direct Marketing, the Mexican asparagus harvest was just starting to fire up in Northern Sonora state as of mid-January.
"Baja California still is the main source (of North American supply) at this point but some early packing is just starting to happen around San Luis (bordering Yuma, Arizona) as well as near Mexicali," said Hansen.
"It's been a cold winter so far but that's helping to get the deal off to a more normal start. Last year at this time the weather had been so warm we were literally swimming in product."
Hansen expected production in the main growing region near the city of Caborca to commence in late January.
"Fern cutting has been delayed this year simply because Easter falls later. But by February we should see steady volume, with March the big month," he explained.
If the weather cooperates, Hansen says Sonora's asparagus season should last through April.
According to United Nations trade data, Mexico has emerged as the world's largest exporter of fresh asparagus, with shipments growing by 54 per cent – from 110,000 tonnes to 170,000 tonnes – between 2019 and 2020. Production of all Mexican asparagus rose from 246,000 tonnes to 301,000 tonnes between 2017 and 2020, with as much as 326,000 tonnes harvested in 2021.
"It's not more acreage planted but just that the asparagus crops are being managed better," said Hansen. "Everything depends on the weather, of course. Last year we had a hard freeze in mid-February, which was very unusual. Normal weather makes everything much more manageable."
After the US and Canada, Japan is the largest export market for Mexican asparagus.
"Japan has been importing steadily out of Baja (California) for some time as Australia has had some problems with its production," said Hansen. "Demand from Europe is starting to pick up now, which is good timing as Peru is starting to wind down with its harvest."
Avocados
Mexico is the largest avocado-producing nation in the world, with a reported 30 per cent share of the global market.
In October (2021), the USDA's Foreign Agricultural Service (FAS) forecasted the current Mexican avocado crop at 2.33m tonnes, 8 per cent lower than last season.
Among the reasons cited were that orchards were "recovering" from the record 2.56m tonnes produced during the 2020/21 season (July-June), as well as general drought conditions across Mexico.
According to the FAS, 80 per cent of Mexico's avocado exports are destined for the US market each year. Michoacan state is responsible for three-quarters of the nation's avocado production, with 97 per cent in the Hass variety. Jalisco follows, with a 13 per cent share of national production.
Michoacan has long been the only Mexican state certified to export fruit to the US. However, after decades of petitioning, Jalisco state was finally granted access in December 2021.
Exports to the US from Jalisco are not expected to commence until June to allow for individual grower certifications to occur and regulatory rules and procedures to be agreed upon by US and Mexican officials.
Prior to Jalisco gaining access, the FAS predicted just over 1m tonnes of Mexican avocados would be shipped to the US market in 2022. Just how much additional tonnage Jalisco's production will add to the total remains to be seen.
The FAS said Jalisco's avocado export volume to all destinations increased by 26 per cent year-on-year in 2021. It's anticipated the industry will continue to support established customers regardless of US market access.