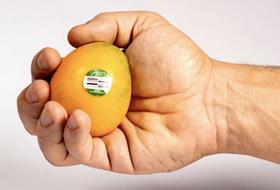 Goldenberry Farms has begun selling a palm-sized mango with an edible skin.
Marketed as Sweet Sugar Mangos, the miniature offering has a red, fragrant flesh with a "sweet juicy taste".
"Unlike some other exotic mangos, Sweet Sugar Mangos do not have a fibrous taste," Antioquia-based Goldenberry Farms said in a media release.
"These miniature mangos are grown naturally, non-GMO, and have a peak harvest season of April through September."
Sweet Sugar Mangos are exclusively grown in the Magdalena region of Colombia, close to Santa Marta on the Caribbean Coast.
The trademarked offering is being sold in 2kg cartons, which hold between 18-24 mangoes.
Goldenberry Farms has developed specially branded retail kits and mini cartons to merchandise the fruit.
Sweet Sugar Mangos are available to customers globally. Goldenberry Farms hopes the variety will gain market access to the US this season.