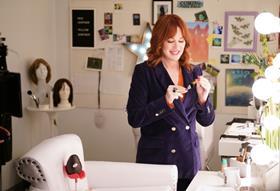 Avocados From Mexico has pulled in some star power for its Super Bowl advertisement this year.
Golden Globe-nominated actress, singer and author, Molly Ringwald, will feature in the brand's commercial, which will air during the second quarter of the game, being played in Miami on 2 February.
To help garner excitement, the brand has also released a teaser called 'Tiara', where fans can watch Ringwald prep an avocado in its hair and makeup chair before their big Super Bowl moment.
'Our creative concept is a lot of fun and brings together a few of our favorite things – avocados, Molly Ringwald and of course, humor,' said Kevin Hamilton, head of brand marketing, PR and strategy at Avocados From Mexico. 'We felt Molly was the perfect fit for the brand given her prestigious career and the fact that she genuinely loves Avocados From Mexico.'
Avocados From Mexico's big game campaign has been developed with creative agency partner Energy BBDO.