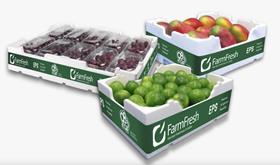 Packaging specialist Termotécnica says more and more Brazilian growers are using its FarmFresh range of EPS conserver boxes to export their fruit to overseas markets.
In the last four years, more than 1m FarmFresh conservers have been used to export more than 4,000 tonnes of premium Brazilian fruits to countries throughout Europe, as well as to the Middle East, Russia, China and Canada. These include mangoes, limes and grapes, as well as pitahaya, figs, papayas, guavas, passion fruit and lychees.
Termotécnica said its FarmFresh solutions allow exporters to access distant markets while maintaining fruit quality for longer, while also helping to reduce air freight costs.
The company has been working with partner producers and traders on the development of the patented EPS packaging, which it claims can extend the shelf-life of fresh produce by up to 30 per cent in relation to other types of packaging.
"It also allows for the use of various modes of transport, with features appropriate to the fruit's processes and qualities," the company said.
"To attend the demanding European market, producers of Brazilian fruits for export pay special attention to post-harvest, in addition to excellence in all stages of production. Fruits require great care, from selection at harvest time to their display for consumption.
"In this context, choosing the appropriate packaging is extremely important to maintain thermal conditions throughout the process and guarantee a quality product at the point of sale."
According to Termotécnica, FarmFresh offers proven benefits over other packaging materials.
"Depending on the type of fruit, compared to corrugated board packaging, for example, EPS conservers are up to 60 per cent lighter, which also represents around 6 per cent savings in air freight," the company said.
President Albano Schmidt said the conserver boxes can also help companies meet their sustainability targets since they are fully recyclable, can cut food waste and lead to lower carbon emissions.
"Our environmental approach brings the circular economy into practice. It includes an integrated vision from product design, operational efficiency, through reverse logistics, recycling and even going to new production chains, closing the circular economy cycle," Schmidt said.
"Thinking about the logistics chain as a whole is a differentiated and innovative solution for this market that meets the requirements for responsible governance by companies in terms of sustainability."