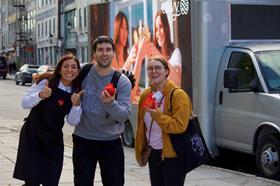 Targeted consumer marketing has led to an increase in demand for Envy and Jazz apples in Canada according to Oppy, who will be showcasing both premium brands at next week's CPMA trade show in Montreal Canada.
Apples are Canada's second best-selling fruit category based on dollar value, accounting for nearly 12 per cent of total fruit sales according to Nielsen Canada,
"We've received remarkable feedback and seen significant growth in several key Canadian regions recently — both brands continue to gain traction thanks to our combined efforts with Oppy to build awareness and trial for our amazing brands with integrated campaigns," said Cecilia Flores Paez, T&G's head of marketing for North America.
Now airing on Game TV, Jazz is the sole sponsor of Pop Whiz, a travelling pop culture game show in Canada.
The series, which targets teens 13-17 and features sampling events, a national online component with games, quizzes, influencers, radio, social media and more, was produced in several Ontario communities.
Oppy's business development representative Susanne Bertolas, who heads the Canadian market, said the company is seeking to position Jazz asthehealthyon-the-go apple to this next generation of shoppers.
"The deliciously crisp and tangy-sweet flavour ofJazz, combined with its size, makes it the perfect snack — ideal for at school, home or work," she said.
In Quebec,meanwhile, Oppy showcased Envy apples at The National Women's Show at the end of 2021.
"The province is quite localised and can be a difficult market to penetrate, and that's why we were so pleased that everyone who tried it, loved it," Bertolas explained.
"With over 1,000 consumer samples distributed, our report indicated that nearly 100 per cent said they would buy it."
Though Envy is not widely distributed in Quebec, primarily due to the strong positioning of locally grown apples, Bertolas considered the event to be a breakthrough.
Oppy said visitors to CPMA can expect to see Envyapples featured in and around the trade show in surprising ways, includingat the annual banquet, which Oppy is sponsoring.
"As the last CPMA was also in Montreal, and considering our recent efforts on the East Coast, we're really coming full circle. I'm looking so forward to the energy of the show and being face-to-face with friends old and new, there's just nothing like it," Bertolas said.