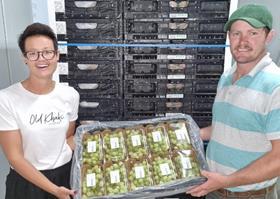 OTC Organics has announced that it is aiming to provide the most sustainable overseas-packed organic grapes to its customers, who are located mainly in Germany, Austria, and Switzerland.
The company said it had made adjustments to packaging and logistics, in close cooperation with Ifco Systems and South African organic grape grower Orex Export.

"We are proud that we made a significant step in reducing emissions, energy, water use and reduction in carton usage,' said Edward Out, managing director of OTC Organics. 'By doing so we are actively contributing towards reducing the CO2-Footprint of the overseas organic grape."
Over the past two years, OTC said it had invested time and money with partners in the supply chain to replace single-use consumer packaging which was home recyclable.
The group said it had, in close cooperation with its customers, successfully tested various carton-based alternatives to single use plastic.
"To meet our challenging sustainability goals, it was decided to conduct the first tests with a more sustainable transport packaging for organic grapes,' Out explained.
'For the first time in our long history of selling organic overseas grapes we have packed our sustainable consumer packaging carton punnet plus r-PET lid and loose grapes in paper carry bags, in Ifco's reusable Black Lift Lock crates,' he outlined. 'The best existing sustainable solution for our customer.'
Replacing the standard carton transport box with a reusable Ifco crate, which is reused several times and fully recycled to make new Ifco crates, had led to a wide range of advantages for everyone within the supply chain like significant cost reduction, OTC said.
Growers in South Africa have been confronted with considerable increase in raw materials during the Covid-19 pandemic. Using the reusable crate led also to a more efficient packing and loading process.
"Shortening the chain from farm to customer gives the customer the advantage of better-quality fruit as the handling to each packaging will be less,' added Marthia Botha, CEO of Orex Export. 'Furthermore, we managed to decrease energy usage during the pre-cooling process after harvesting due to a 25 per cent quicker force cooling process."