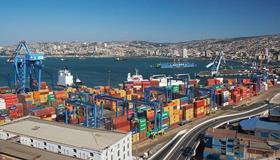 Asoex has raised concerns that Covid disruption at Chilean ports could derail fruit exports as the season enters its busiest phase.
In a statement on Friday, the fruit association reported that in the last few days, four vessels had been unable to enter port to load and unload cargo because of cases of Covid infection on board.
Asoex president Ronald Bown is urging the government to draw up a protocol to deal with such situations to minimise further disruption.
"Given the relevance and great repercussion that this type of situation can produce, we call on the corresponding authorities, especially the maritime and health authorities, to agree on a protocol aimed at adequately handling this situation as soon as possible," he said.
"This would allow for the implementation of isolation regulations for infected people, the sanitisation of the ship and any other measure to ensure that maritime and port workers can carry on with their duties as normal."
Figures released by Asoex show between 1 September 2021 and 11 January 2022, Chilean fruit exports totalled 708,741 tonnes, an increase of 7.85 per cent on the year-earlier period.
Shipments to Asia, Chile's biggest market, were down 4.75 per cent at 301,818 tonnes, but this was offset by a 54.6 per cent increase in exports to the US to 177,642 tonnes, a 21.35 per cent rise in exports to Europe (106,849 tonnes) and a 10.45 per cent hike in exports to Latin America (114,936 tonnes).