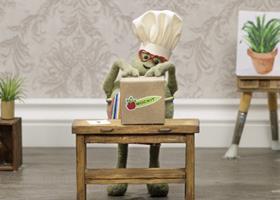 Rockit apples will appear on The Tiny Chef Show.
A winner of two 2021 Webby Awards, the show follows the travels of Tiny Chef, a 6.5in herbivore that creates miniature dishes.
Tiny Chef is currently making his way from the US city of Portland to Hollywood, documenting his journey on Instagram.
The Rockit apple brand is sponsoring Tiny Chef's trek, in the process gaining exposure to an international Instagram following of more than 600,000 fans.
"We have been fans of the Tiny Chef for a long time and are honoured to sponsor Cheffy's adventure to Hollywood," said Julie DeJarnatt,director of retail strategy for Chelan Fresh, which grows and markets Rockit apples."Both our apples and Tiny Chef are so unique and tiny – this was a natural partnership that we had to take part in."
Rockit will be featured on The Tiny Chef Show channels on 31 August and 14 September, as Tiny Chef treks down the Pacific Crest Trail.