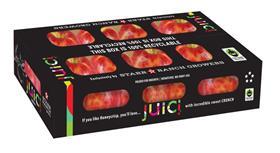 Starr Ranch Growers has received certification from Fair Trade USA.
The certification covers the company's apple orchards and packing facilities in both Wenatchee and Quincy.
Fair Trade is a global programme made up of a diverse network of producers, consumers, advocates and organisations prioritising "people and planet first", according to the Fair Trade USA website.
To attain the Fair Trade Certified seal, producers must meet rigorous social, environmental, and economic standards.
Brett Reasor, chief executive of Starr Ranch Growers, said the authorisation from Fair Trade USA came through collective dedication and persistence to strengthen and grow the company's core values, sustainability efforts and culture.
"The goal of becoming Fair Trade Certified has been a top priority of ours as we've built upon our sustainability programme," said Reasor. "We've placed a significant emphasis on generating sustainable solutions. The core pillar of our sustainability initiatives begins with the people – which is why we value farm worker welfare and community development, while nurturing the land in which we grow."
Retailers pay a premium on goods that are Fair Trade Certified to promote employee welfare. Over 75 per cent of these premiums are directly paid back to farm workers.
For Starr Ranch Growers, this means a commitment to additional support and compensation for its employees and personnel working in the orchards.
"Our farm workers and labor personnel are the backbone and core of our business - this is our commitment to providing further incentives, support and opportunities for all," said Reasor.
While Starr Ranch Growers was granted certification for apples just in time for its Autumn harvest, it plans to work toward certification for additional commodities in the New Year.
"It is our social responsibility to ensure every Starr Ranch Growers employee has a seat at the table – whether they're in an orchard, warehouse or office," said Jim Thomas, owner and president of Starr Ranch Growers.
"It started out as certifying allocated sites within our operations, but we quickly knew we couldn't stop there, and have since expanded certification to all Starr Ranch orchards and custom packing warehouses – benefitting nearly 1,800 farm workers. I couldn't be prouder of our team on this milestone achievement."
The company will display the Fair Trade USA trademarked logo on its apple cartons and bags this season.