Muddy Machines gains seed funding that is expected to lead to rollout of its Sprout technology
Ag-tech and robotics firm Muddy Machines has received a £1.5m round of seed funding to develop its automated harvesting solutions.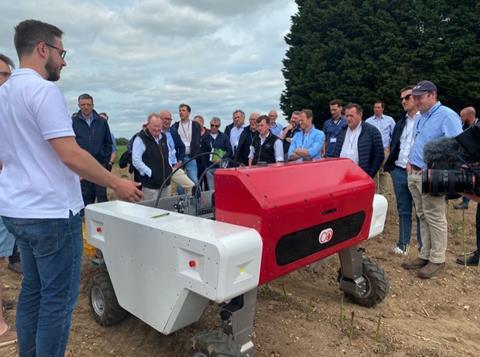 The company's technology allows farmers to precision harvest crops like asparagus, with its Sprout robot said to be able to drive through fields harvesting accurately for up to 16 hours a day with no need for breaks or decline in performance.
The new round of funding will be used to strengthen the company's engineering team and build capacity to cope with more widespread adoption of its technology.
Specifically, it aims to build a small herd of Sprout robots for the 2023 asparagus harvest season and generate initial revenues; continue with the development of different crop-harvesting capabilities; and plan production of the next generation of lightweight, battery-powered Sprout robots.
This latest round of funding was led by Regenerate Ventures, which specialises in investing in technologies that help farmers produce food with less impact on the environment. It was supported with participation from Ponderosa Ventures, Jude Gomilla, Thrive/SVG Ventures, Science Angel Syndicate and others.
"We were impressed by Muddy Machines' vision and the speed of technical development," said Paul Rous, MD at Regenerate Ventures. "This was a company founded in the midst of the first lockdown. Within two years they had a robot asparagus harvester built and commercially tested."
Florian Richter, CEO and co-founder at Muddy Machines, said: "Raising money for AgTech and hardware businesses is a challenge at the best of times. We are extremely proud to have secured this funding in the current investment climate. We are now focused on creating a meaningful amount of harvest capacity for our customers."