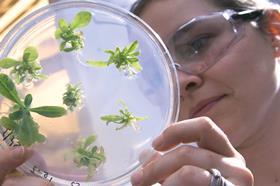 Nanotechnology, energy from manure, and insect pheromones that lure pests away from precious fruit crops, are three exciting new horticulture technologies to receive backing from a new £3.5 million climate change fund.
Three up-and-coming agri-tech ventures were awarded £140,000 each from the SHAKE Climate Change Programme, to help agriculture go carbon neutral.
SHAKE funds and trains entrepreneurs and start-ups who have innovative solutions to tackle climate change linked to the agri-food sector, which contributes more than a quarter of global emissions.
The three tech firms were chosen from an initial 17 applicants last summer. Of this initial cohort, ten were chosen for a further three-months of intense training to build their ventures. The three successful ventures were then recommended to receive £140,000 funding to develop their businesses under continual mentorship for a further 8-12 months, followed by aftercare support.
Professor Angela Karp, interim director and CEO of the world's oldest agricultural research institute, Rothamsted Research, co-developed the programme with partners at Cranfield University, UCL (University College London), and the University of Hertfordshire.
"I'm delighted to be able to announce these successful ventures, and we look forward to working with them, and those that will follow over the coming months and years," Karp said.
"They were up against tough competition, but all three of them have displayed great ingenuity in their initial ideas to help reduce the climate impact of food and farming, and they have taken really well to the training and mentorship we have provided so far.I am fully confident they will continue to go from strength to strength."
Receiving the grant is London-based EcoNomad Solutions, who will help small farms to improve resource management sustainability and agricultural waste recycling. Their proprietary technology includes biogas and nutrient recovery systems suitable for even the smallest of smallholders.
Another intriguing start-up is Glaia Ltd'suse of nanotechnology-based solutions for sustainable agriculture. The Bristol firm's first family of products, the sugar-dots, increase crop yields, reducing carbon inputs, and allowing crops to be farmed outside their traditional growing regions.
The third company to receive the £140k grant is PheroSyn Ltd, whose mission is to scale up the production of and make available pest insect pheromones that can be deployed to protect crops and reduce the use of pesticides.
This will also reduce fossil fuel consumption linked to pesticide production and subsequent on-farm applications. Their first products are designed to lure midges that attack wheat, peas and pears away from these crops.
The SHAKE fund was set up by a consortium of leading scientific research and academic institutions last year in the wake of the climate emergency, with financial backing from the UK-based charitable arm of major European bank, Societe Generale.
Professor Karp said: "There has been a lot of publicity recently around the environmental impact especially of eating meat and intensive agricultural crop production – but the contribution of agri-food to our climate footprint is so much more complex and wider than that.
"It has been really exciting to see that this entrepreneurship support programme has attracted ventures with innovations offering solutions across that wide spectrum.
"We are very confident the first three to receive investment will help make farming part of the solution and look forward to continue to support them in that journey over the next year or so."
The SHAKE Climate Change programme is specifically designed to attract entrepreneurs or start-ups who have developed early stage science or tech-based ideas that can have a significant impact on climate change, as well as form the basis of a sustainable and socially responsible business within the sector.
The programme is funded by the Societe Generale UK Foundation, the independent corporate foundation of Societe Generale Group in the UK.
Two additional similar waves will follow with the programme continuing to support entrepreneurs until 2027. The 2020 call out received 30 applications covering a wide spectrum of innovative ideas. 10 have made it through the first stage of the second wave, which launched just this month.
Interested applicants should visit thewww.shakeclimate.orgwebsite or email the programme manager, Tinne Midtgaard atinfo@shakeclimate.org