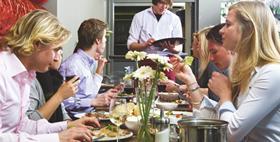 As many as 9.2 million people, or 14 per cent of the population, believe they may have eaten mislabeled or mis-sold food within the UK.
New figures, taken from a poll of more than 1,000 members of the public, raises concerns about food safety in Britain, particularly linked to allergen management and meeting the ethical expectations of consumers.
The findings were released by High Speed Training, which provides training and compliance support to businesses and employees within the catering and hospitality sector.
The company said the data was not just of concern to people with allergies and intolerances. More than 350,000 people officially signed up to complete Veganuary in January 2020, representing a growing number of people in the UK that are susceptible to food fraud due to dietary preference and growing interest in sustainability.
From the horse meat scandal to high-profile allergy-related deaths, over the past decade there has been a new wave of legislation change committed to putting an end to food fraud, an issue that NFU Mutual estimates costs the UK food and drink industry £12bn a year. Following Brexit, High Speed Training said the findings highlight the importance of ensuring stringent standards are defined for accurate labelling at all levels of the supply chain.
A recent report from the online training provider also revealed that nearly half of hospitality managers in the UK (44 per cent) consider British employees to fall short of their European counterparts in their knowledge and commitment to food safety.
Richard Anderson, head of learning and development at High Speed Training, said: "There has been a dramatic shift in the way we consume food, with millennials opting for more plant-based diets being just one example. It is evident that we require greater transparency between businesses and consumers regarding accurate labelling, so that people can feel safe and confident in what they are purchasing."