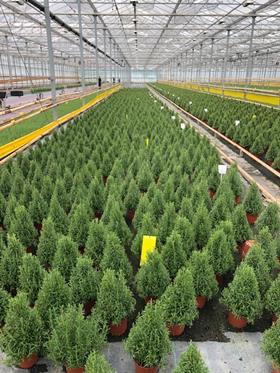 Waitrose is again stocking rosemary Christmas trees in response to consumer demands for more environmentally friendly festive decorations.
According to the retailer the alternative Christmas trees proved a hit last year as environmentally conscious consumers looked for a multi-purpose tree that could be re-used, whether that's planting them in the garden or as a festive gift for foodie friends and family.
The trees are grown and pruned to resemble the shape of a Christmas tree. Standing at around 30cm in height - just under a third of the size of an average Christmas tree - these aromatic miniature trees are edible and are said to give the home a distinct refreshing fragrance.
Available from the end of November and priced at £15, the trees are grown in Chichester and were selected from among 80 different varieties for their shape, colour and aroma.
Waitrose horticulture buyer Oliver O'Mara said: 'Our customers are passionate about shopping in a more sustainable way, seeking out products that are kind to the environment and that help them to reduce their own waste, especially at Christmas.
"Our Rosemary Christmas Trees aren't just for decoration, the rosemary tree's leaves can be used to flavour dishes over the holidays and then be planted outside when Christmas is over, so nothing goes to waste."
The trend for rosemary Christmas trees started in America where just as many are now bought compared with standard Christmas trees. Their needle-like leaves make them the perfect alternative tree and can be decorated to look just like their larger traditional counterparts.