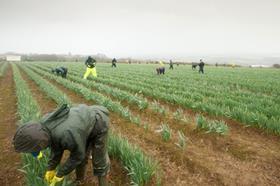 A third of horticulture businesses would become "unviable" without access to EU workers while around a fifth would consider relocating overseas, a new survey has found.
Co-authored by the Fresh Produce Consortium (FPC), the report also found that almost half (47 per cent) of horticulture businesses said EU nationals were considering leaving the UK due to uncertainty over their future.
"The report highlights the sector's major concerns regarding availability of labour and highlights the serious consequences of failure," said FPC chief executive, Nigel Jenney.
"As a sector we depend on our committed workforce, and we need government to provide clear assurances to our EU workers and UK businesses. This is now time critical to safeguard future supply of fresh produce and flowers."
The report lays out a range of requests and recommendations to government, including short term legislation to secure the rights of EU nationals currently in the UK, and review the recording of immigration data.
In the medium term, the report said government should build an attractive and effective non-EU migration system, and ensure there is no cliff-edge with freedom of movement when the UK leaves the EU.
Long term recommendations included investment in skills and training for the food and drink supply chain; support access to alternative, hard-to-reach labour market solutions; allow benefits system to make flexible working easier.
"Our supply chain is aware of the expectation to reduce reliance on EU workers and is focused on upskilling wherever possible locally within the UK, with a strong emphasis on building skills through apprenticeships and investment in technology to support automation," said Jenney.
"However, with record high levels of employment in key geographical locations, it is often a question of local labour availability for the roles we are seeking to fill."
Food & Drink Federation director general Ian Wright said: "Food is a matter of national security, so the results of this report are of central concern to businesses across the 'farm to fork' industries.
"It is only a matter of time before the uncertainty reported by businesses results in an irreversible exit of EU workers from these shores. This is a scenario that will hurt the UK culturally and economically."