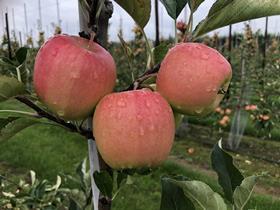 AC Goatham is set to harvest its first UK-grown pink apple variety in a move that it hopes will help reduce imports.
Flanders Pink has been developed and grown in Kent, and is named after Goatham's Flanders Farm in Hoo. This year will be the first that the crop has been grown in commercial quantities.
Described as sweet, crisp and very juicy, the new variety will help fill a gap in the market for British growers, with pink varieties up until now almost exclusively having been grown overseas.
Carol Ford, commercial director of AC Goatham & Son, said: "This is an exciting development for our team which has taken significant investment and collaboration to produce and we are delighted with the results – the very first commercially grown British pink-skinned apple.
'Flanders Pink has scored highly in the all-important consumer taste tests as well as being suitable to grow in the UK's damp climate. It also travels and stores well – vital for modern apple varieties, so that they reach the end consumer in the very best condition."
The investment comes as the British industry looks to ramp up production and replace imports over the coming years. Newer varieties such as Royal Gala, Cameo and Zari have given shoppers greater choice and more efficient cold storage technology has helped to extend the season in supermarkets for British apples and pears.
The launch comes in a year when AC Goatham supplied British Royal Gala for 48 weeks for the first time, significantly extending the season. The company now grows over350 million apples and 50m pears each year.