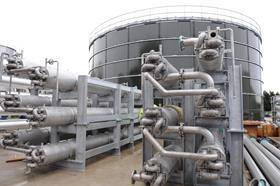 The Anaerobic Digestion and Bioresources Association (ADBA) has called on Chancellor George Osborne to set aside at least £25 million to boost research in biogas, digestate and bioproducts, and help increase exports.
ADBA has released a policy paper to the Department of Energy & Climate Change (DECC), in which it called on government to allocate at least £25m of an increased innovation programme worth £500m over the next five years.
ADBA chief executive Charlotte Morton pointed out that the potential export value of anaerobic digestion technology is over £2 billion per year for a decade, but current UK exports are estimated at just £50-£100m.
"That is why we are calling on government to allocate £25m of the increased innovation programme for demonstration projects, such as power-to-methane and digestate processing,' she said.
'Supporting such new technologies through industry could bring ways of sustaining the sector with reduced reliance on financial mechanisms, allowing AD to remain the most cost-effective method of producing home-grown green gas and electricity, and contributing to the UK's 2020 renewable energy, recycling, decarbonisation, and climate change targets.'