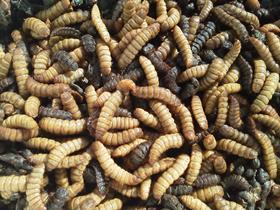 An agri-tech business which produces biopesticides from larvae has been awarded a £29,000 grant from their local authority.
AgriGrub, an East Cambridgeshire-based food waste company, breed black soldier flies and their larvae to produce a substance called "frass" which is used as a source of micro-nutrients for seedlings and plants.
Frass is a byproduct of larvae fed waste vegetables by AgriGrub, and also contains insect droppings, skin casings and organic carbon. The larvae are then sold on as reptile and bird feed.
Plants are also allegedly "tricked" by frass, into thinking they are under attack, increasing their defences in response, making it a handy biopesticide.
AgriGrub won the grant as part of a fund run by the Eastern Agri-Tech Growth Initiative. The initiative is run by the Cambridgeshire and Peterborough Combined Authority with support from New Anglia LEP, Norfolk County Council, Cambridgeshire County Council and local authorities covering the area.
Cambridgeshire and Peterborough Combined Authority agri-tech programme manager, Martin Lutman, said: "We're delighted to be able to support businesses like AgriGrub. The research that AgrGrub is undertaking is the type of leading edge project that the Eastern Agri-Tech Growth Initiative was set up to support."
AgriGrub managing director Joe Halstead said: "This grant will enable AgriGrub to do the research needed to understand our products and look towards scaling up to meet demand.
"A critical part of this project is research into frass, a novel organic biopesticide which could have a dramatic impact on food production."
Grants are available to organisations looking to invest in specialist equipment, new market and supply chain development, ways to improve productivity and efficiency, and the application and commercialisation of Research and Development.
To find out how the Eastern Agri-Tech Growth Initiative could help to grow your business, call Programme Manager, Martin Lutman, on 01480 277180, or emailinfo@agritechgrants.co.uk