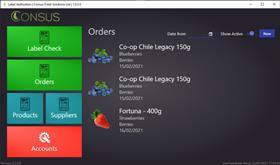 An AI-based label verification and quality control solution for fresh produce packhouses has been launched by Consus Fresh Solutions.
Consus Fresh, part of The Affinitus Group, says the new solution could significantly reduce packhouse quality control labour costs and boost operative productivity, while reducing product withdrawal fines and associated costs due to labelling errors.
Label verification is a time and labour-intensive process that is required at multiple points during the fresh produce packing process, the company explained. A fresh produce packhouse QC operative completes an average of 200 label checks per day, using pen and paper data collection methods, at approximately two minutes per label check.
Repetition and human fatigue introduce a high risk of "label blindness", causing costly label errors to be missed and miss-labelled product reaching the supermarket shelves. Each undetected error results in hefty fines, product re-work costs, loss of reputation and sometimes loss of contracts, not to mention the food safety risks from undeclared ingredients or allergens, Consus Fresh said.
The new AI-based Consus Label Verification solution takes approximately four seconds to perform each label check. The solution uses Microsoft Azure cloud-based artificial intelligence to process each label photograph and returns an immediate pass or fail result.
A failure result will automatically halt production and issue automated alerts to relevant production staff with details of the failure. Similarly, a pass result can automatically trigger any "positive release" processes and progression to dispatch.
The solution can check any labelling information against a centrally stored repository of client and product-specific labelling requirements, including country of origin, picked-from location, product description, best-before date, display-until date, product class, destination customer, special offers and allergen advice.
The manufacturer says the Consus Label Verification solution comes at an affordable monthly subscription price based on transactions, and can operate as a standalone tool, or be used with existing Consus Packhouse solutions, or fully integrated via an API into existing production management or ERP solutions. In addition, the solution requires minimal installation and training and utilises off-the-shelf hardware, allowing for cost-effective, rapid rollout and support.
Peter Taylor, technical director and co-founder at Consus Fresh Solutions, said: "Today's launch marks the culmination of an extensive technology development project and underpins Consus' commitment to supply innovative solutions to meet both the requirements of the produce industry and also our goal to provide the latest technological solutions to drive efficiency, productivity, compliance and profitability in all our customers."