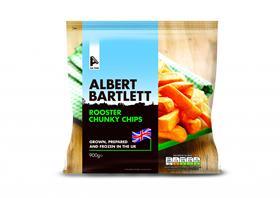 Potato supplier Albert Bartlett has named global produce group Robinson Fresh as its exclusive distributor in North America.
The news comes as the Scottish potato firm, which owns the Rooster potato brand and has a growing presence in the frozen market, continues to expand its presence in the US with headquarters in Denver and growers across the country.
Robinson Fresh vice president of global sourcing Michael Castagnetto said: "When we heard Albert Bartlett was looking for opportunities to further expand into the North American market, we knew we wanted to get involved.
"Albert Bartlett plays in a unique space in the food industry that we see as the forefront of consumer trends – the company prioritises flavour to drive the category and provides a premium option to offer a meaningful culinary experience. As Michelin-star chefs and home cooks alike are utilising this product, we believe this is the future direction of the produce industry."
Under the new partnership, Robinson Fresh will focus on customer solutions across the supply chain, while Albert Bartlett will focus on grower relationships and product innovation.
"We wanted to work with someone who understands and can simplify the complexities associated with the North American produce market while appreciating the care we put into each potato," said Steve Barker, vice president at Albert Bartlett. "We look forward to continuing to expand our Albert Bartlett offerings."