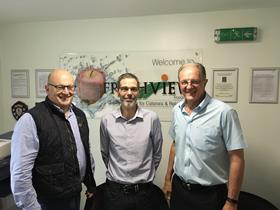 Freshview Foods might just be one of the biggest companies you've never heard of. The Stoke-based fresh produce supplier may have only been in existence since 2010, but as the amalgamation of three longstanding businesses, a staff of 170 and some seasoned operators at the helm, the industry might now have to sit up and take notice.
Freshview Foods came about when two local greengrocery businesses teamed up and bought out Total Produce Stoke, combining the three operations in the former Total Produce facility. The unified company supplies the full range of fruit and vegetables – some 2,600 lines – as well as a selection of dry, frozen and prepared products to schools, universities, sports clubs, hotels, restaurants and caterers.
The business is owned by Richard Harrison, who comes from a family of greengrocers and started work as a 17-year old selling potatoes out of his grandfather's garage, and Bill Summerscales, an ex-professional footballer who had a successful career at Port Vale in the 1970s before moving into fruit and veg retail. With the recent addition of former Oliver Kay Produce director Chris O'Connor as managing director, the company is changing gear and expanding its outlook as well as sticking its head above the parapet for the first time.
O'Connor believes Freshview can occupy a unique position in the market, somewhere in between the local 'man with a van' at one end of the scale and the giant foodservice operators – firms O'Connor describes as "very good at moving boxes around very efficiently, but who might as well as be moving Samsung TVs for all they know about greengrocery" – at the other.
That's not necessarily meant as a criticism, but it's not the way O'Connor likes to do business; turned off by the big corporate-style operation that is increasingly prevalent, last year he chose to quit Oliver Kay Produce, which was acquired by Bidfresh back in 2012. Instead, you get the impression he wants to be part of a business where the staff are a 'family' and all the focus is on providing a value-added service for the customer.
"I really don't want to work for a big conglomerate because the customers become a number," he explains. "It's very streamlined and cost effective, to the detriment of the product and the customer. There are enough of those businesses in the industry, so I walked away last September not knowing what to do with the rest of my career. But then I got a phone call from Freshview, and I met with Bill and Rich and it was like meeting Oliver Kay again all those years ago – a company of a decent size, owned and managed by decent people, and who seemed incredibly hard working towards customers and their people. It's about people first and foremost. That's how the guys think. You don't come across that kind of company very often in your career."
Expanding on the theme further, O'Connor points out that a large portion of Freshview's staff have been with the company (in its various incarnations) for decades, with whole generations of the same families working there. "It's all about the people," he insists.
A fresh perspective
O'Connor sees the longevity and experience of the staff as one of the company's great strengths, but also accepts he was brought in to bring a fresh, outside perspective. "There are people here who are absolutely fantastic, but who have always worked here and don't know anything else," he points out. "My job is to coach people in what I believe to be right and proper, and the right way to do business in where we are moving to, because I have had that experience."
Harrison adds: "We recognised that just because we've been doing things for 30 years doesn't mean it's right. There's always another way to do it and that way might be a better way, or a mixture of the two. When we brought Chris in it helped facilitate that and make sure we are doing things the best way."
The message is all about organic growth, gradually achieving greater scale through things like logistics efficiencies and picking up customers as competitors vacate the space rather than, say, trying to buy turnover at the detriment of profitability. "I get out of bed each morning to make money, because we've got a social responsibility to the people that work for us," O'Connor explains. Nevertheless he doesn't believe achieving profitability is rocket science: "Set your stall out properly to your customer, be honest with them, tell them what you're going to do, and do it every day. It's a simple as that. The profit in this industry comes from long-term relationships, getting those logistical efficiencies, making a small margin from each job."
So why does a business that has always kept itself to itself want to gain a public face now? O'Connor says it's about trying to get the industry to understand what the business is. "We are well known locally, and we are very good at what we do, but people outside of the local area don't understand what we are about – which is a very good greengrocery company, with a little bit of a foodservice company," he says. "And the journey now is how do we become a little bit busier, a little bit more profitable, but retain those values? It's about growth, people, retention of profits and doing a bloody good job day after day."
It might sound simple, but as always in life achieving that end result comes from hard graft. And, as Freshview Foods would be at pains to point out, teamwork.