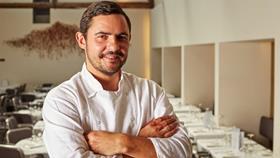 Amazon has entered the restaurant delivery sector in the UK with the launch of its Amazon Restaurant service.
Available to Amazon Prime members in select London postcodes, the move sees the online giant take on the likes of Deliveroo, Just Eat and UberEATS.
Restaurants linked to the new service include Strada, Gastronomica and Planet Hollywood through to Michelin star Benares, and lunchtime eateries such as Tossed and Pod.
The service has no menu markups or hidden service fees, Amazon said, while delivery on all orders is free and guaranteed to be within an hour. Customers can view restaurants, browse menus, place orders and track the status of their delivery in real time using the Prime app.
'London offers some of the best cuisine from around the world, so we're delighted that Amazon Prime customers can now enjoy food from their favourite restaurants via Amazon's ultra-fast Prime Now service,' said Al Wilkinson, UK head of Amazon Restaurants. "We're excited to be helping many of these small businesses start offering home delivery for the very first time.'
Daniel Creedon, head chef and manager at restaurant Archipelago, said: 'Home delivery is something we have long considered but haven't been confident that the food would arrive in best condition. We believe with Amazon's experience and success in the US and their understanding of logistics here in London, they are perfectly placed to deliver a service which will ensure our food reaches our customers as it should."
Owner of Baltic Restaurant Jan Woroniecki said he has resisted many other approaches from food delivery companies, before deciding to partner with Amazon. 'Their proven track record for prompt, efficient delivery, their obvious commitment to quality and professionalism and the simple but effective ordering system persuaded us that our food would be delivered promptly and in great condition," he said.
Amazon Restaurants delivery via Prime Now first launched in Seattle in September 2015.
Amazon Fresh continues march across London
The news comes as the company's fresh grocery service Amazon Fresh expanded further across greater London, more than doubling postcode coverage since the it launched in June.
The service now covers south and south west London, from Brixton to Leatherhead, and Richmond to Croydon.
"We've been delighted with the positive response we've had from customers across London with our convenient delivery options, vast selection and low prices regularly cited as reasons for using AmazonFresh," said Ajay Kavan, vice president of AmazonFresh.