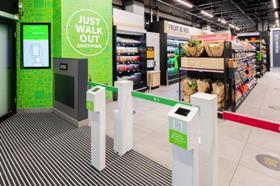 Amazon has opened its first cashless, no tills convenience grocery shop in Londontoday (4 March).
The 2,500 sq ft Amazon Fresh store in Ealing Broadway features Amazon's 'Just Walk Out' technology whereby customers scan their phones on arrival, fill their bags with products and leave without any interaction with staff or a self-checkout machines.
Shoppers scan a QR code on the way in, then "just walk out" with their accounts automatically billed as they leave, thanks to a number of cameras and sensors in the store ceiling tracking customers and their purchases.
The Ealing store stocks hundreds of own-brand products, as well as well known brands, and also serves as a collection and return point for goods bought online, press reports reveal.
According to the BBC, Amazon said it had sourced many of its own-brand groceries - including milk and eggs - from UK suppliers itself. Other items come from Morrisons and Booths, supermarkets with whom it has pre-existing ties.
A second London Amazon Fresh store is understood to be opening in Notting Hill Gate, with others planned in city centres across the UK in the future.
Matt Birch, the former Sainsbury's executive who now leads Amazon Fresh Stores UK, told PA that the company has strived to make grocery shopping 'as convenient as possible'. 'The focus was just creating a really easy shopping experience for customers,' he said.
Amazon also operates seven Whole Foods Market supermarkets in the UK, according to the BBC, which adds that there have been persistent rumours that Amazon might try to expand further in the UK retail sector by buying one of the larger chains.
However, the company is also reportedly offering to sell its Just Walk Out technology as a service that can be installed in other supermarkets.