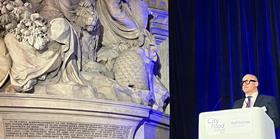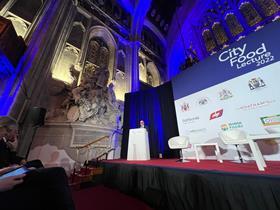 Linking farmers with consumers is how we accelerate towards sustainable food production.
That was the take-home message of Ash Amirahmadi's keynote speech to food and farming leaders at the City Food Lecture in London as the MD of leading dairy supplier Arla UK urged action and engagement in the fight against climate change.
Amirahmadi encouraged agricultural business chiefs to listen to and visit farmers, as it is them that need to make the biggest shift to meet ambitions for net zero. In many parts of the world, it is also smallholder farmers that are hardest hit by climate change.
In a related point, the dairy chief warned that it is only by addressing agriculture's environmental "image problem" that the food industry can bring in more young talent to help businesses meet their sustainability targets, so it is important to send out a positive message to the public.
Speaking at Guildhall in the City of London, he said: "There is no shortage of information of information and insight on consumers. It's also really easy to access. Where we have to develop our competency as leaders is the on-farm agenda. The biggest thing we can do in the food industry, especially as leaders, is to immerse ourselves in it.
"At the heart of everything we are trying to achieve as an industry are farmers, so we should challenge ourselves to understand them better – go out and meet them, listen to them, see what they are doing."
The Arla boss, who has been at the helm of Britain's largest dairy supplier since 2018, quoted a calculation from management consultancy McKinsey that $9.2 trillion a year would be needed globally to make the transition to net zero over the next 30 years – about 30 per cent more than is being spent at the moment.
He emphasised that the public and private sectors are needed to support the food sector's journey to sustainable agriculture, calling on government to deliver "consistent and coherent" legislation with vision that avoids "a patchwork of contradictory measures".
Amirahmadi stressed that 80 per cent of the "effort, thinking and collaboration" in the push towards net zero needs to be focused on the execution. "An average strategy executed well generally trumps a genius one that ends up sitting in papers, presentations and meeting rooms," he said, urging legislators to work with agriculture and across departments to ensure the industry can practically deliver what's needed.
The finance sector will also be key in funding sustainability efforts in farming – and it needs to be since climate change is already having a major economic impact globally. Amirahmadi highlighted HSBC as a business showing leadership in this area in Britain.
Rebutting criticisms that parts of the agri-food system, particularly meat and dairy, are a major factor in driving up emissions and causing biodiversity loss, the Arla boss also urged a more balanced view of the positive impact of these sectors in terms of nutrition.
"It has become far too automatic for people to think of food and agriculture in negative terms: animal welfare, obesity, habitat destruction, emissions," he said. But Amirahmadi warned that businesses need to be prepared for new legislation requiring them to adopt more sustainable practices in the years ahead.