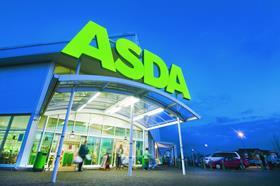 Asda has reported a slight dip in sales versus 2020, but revenue is up against the same period in 2019.
The latest trading quarter, which covered the period from 1 July to 30 September, saw like-for-like sales excluding fuel decline by 0.7 per cent. That is compared with the same period last year, during which time sales were boosted by ongoing social distancing restrictions, resulting in more meals being consumed at home.
Asda's like-for-like sales on a two-year basis saw growth of two per cent, with food sales up by 3.4 per cent compared with Q3 2019. The lockdown trend of customers treating themselves to premium own-label products continued and Asda added more than 200 new products to its 'Extra Special' range this year in response.
The supermarket said that investment in quality helped make Extra Special the fastest-growing premium range of the big-four supermarkets and discounters, growing ahead of the total market by eight per cent, according to Kantar Worldpanel.
Online and convenience
Demand for online groceries softened slightly during the quarter, with sales down by 2.7 per cent on the same period last year as more customers returned to shopping in store. However, online sales remain significantly higher than pre-pandemic levels, up by 80 per cent on the same period two-years ago.
The chain also updated on the rollout of its 'Asda On the Move' convenience stores on EG Group forecourt locations, confirming that 30 sites had opened so far.
In a call with investors, Asda said it was successfully navigating the industry-wide supply chain challenges and highlighted the steps it has taken during recent months to help ensure its shelves are stocked with everything shoppers need for Christmas.
Asda has also recruited 15,000 temporary colleagues to serve customers during the Christmas period and increased the capacity of its grocery home-delivery service to one mnillion slots in the final week before Christmas – hitting a goal set in Q3 2020 and up from 765,000 slots in Q4 last year.
Owners Mohsin and Zuber Issa said: "We know how much Christmas means to our customers, especially after some missed-out-on celebrations with friends and family last year. Our colleagues have pulled out all the stops during the last few months to make sure customers can get their favourite festive products at Asda and enjoy the Christmas they deserve – and we'd like to thank them for their continued effort and commitment to serving our customers.
"Looking ahead, our plans to rollout Asda on The Move remain firmly on track and will open up significant growth opportunities in the convenience channel. We are also highly encouraged by the early uptake of our Asda Rewards loyalty programme and look forward to bringing this trial to customers in more stores next year."