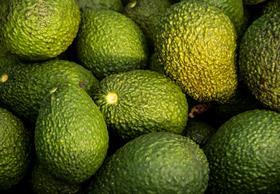 A continuing success story of the fresh produce trade, avocados remain a real source of optimism. Double-digit retail growth is still the norm, and supermarket sales have shot up further since coronavirus took hold in the UK. However, as with other fruits and vegetables right now, there are lots of unknowns for the category – and there are reasons for this beyond the coronavirus pandemic.
Balancing supply and demand, coping with a retail boom and a catering collapse, and navigating logistical hurdles and price volatility are the key challenges in the avocado sector right now. And as the Peruvian season gets underway, with large volumes expected, it will be interesting to see how UK avocado suppliers handle all the upheaval.
"The main talking point is the volume that will be available from Peru this year," says Judy Whittaker of Fresca subsidiary The Avocado Company. "We are expecting a significant crop and looking for demand to keep up with production. Being an 'on year' for production, as well as having a greater expanse of commercial production now, we have to be careful to ensure the UK and European markets are not flooded."
Right now, oversupply isn't an issue. Whittaker reports that demand from retail customers has increased considerably, with supermarkets under enormous pressure since orders have increased by 50 per cent in some instances. This has resulted in huge pressure at their depots, but she says they are doing "an amazing job" to cope with the extra volume.
By contrast, catering is in sharp decline, with hotels, restaurants, bars and food outlets closing or seeing sales dry up across Europe and the US – two key markets for avocado. With retail demand high and catering demand rock bottom, the impact on suppliers will vary depending on their customer profile. And this not the only factor at play of course. Supply volumes and prices will also be key to companies' fortunes.
"At Pacific Produce we are currently in low season for avocado," says MD Rob Cullum. "We market some product from Israel to the open market which has been high for the first part of the year and we are just starting to load in Peru with our main season. The demand is always good at the start, but it remains to be seen what the impact of Covid-19 will be on consumption. The market has been short of fruit, but with Peru, South Africa and Kenya all starting we will see what the effect of the catering trade declines will be."
In addition, various logistical challenges have been posed by the lockdown of many of the world's avocado-producing nations. Phytosanitary certificates need to be stamped, technical certifications need to be audited and packing materials need to be sourced, all of which will be slower under the current restrictions.
When it comes to UK supply, South Africa certainly has an important role to play – especially before the main Peruvian production area kicks in – but Peru will dominate the market this summer, determining price and activity.