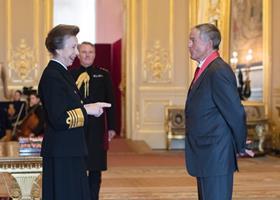 Global farming and food business Barfoots founder, Peter Barfoot, 72, received a CBE for services to sustainable farming from HRH The Princess Royalat a ceremony at Windsor Castle last month (26 October).
Barfoot was awarded the highest-ranking Order of the British Empire in the 2020 New Year Honours, with the ceremony initially due to take place in April 2020 but delayed by the Covid pandemic.
A fifth-generation farmer and early pioneer of sustainable farming methods who started farming on a 21-acre council holding in Hampshire, Barfoot said he was delighted to receive his award at long last. 'It was a great day, well worth waiting for, the whole experience was amazing, and best of all, as you can see from the photographs, I made her laugh,' he said.
Barfoot added: 'My first rule of sustainability is profitability. Without being profitable as a farmer, your business will not be sustainable for very long.'
Barfoots of Botley started as a family farm growing one crop in Hampshire in 1976, and has since grown to incorporate 7,000 acres along the UK south coast, as well as farms in Senegal, Peru and Spain.
One of the first sustainability initiatives Barfoot said he initiated as a young UK farmer was to replant miles of hedgerows and sow wild bird mixes and bumble bee strips 'long before politicians came up with the idea of paying you to do it'.
Other environment-friendly projects at Barfoots over the years include implementing anaerobic digestion; investing in a network of reservoirs to store and reuse surface water; working with charities to reduce waste and redistribute out-of-spec vegetables; establishing a plant conservation centre in Peru in collaboration with Kew Gardens that has conserved and produced more than 250,000 native trees; and investment in the social and economic development of the Senegalese communities where Barfoots farm.
'My proudest achievement is my involvement in Senegal where we are now farming 3,700 acres of land, most of which had never produced food in the history of the world, emplying over 6,500 people and creating an improved life for over 25,000 people in Northern Senegal,' Barfoot said.
Upcoming sustainability initiatives at Barfoots include the building of a water treatment plant to clean all factory waste water to be used for irrigation, and embracing Carbon Sequestration and new ways of farming, he added.