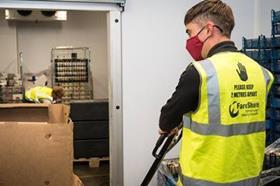 This week FareShare announced that its partnership with UK veg supplier Barfoots of Botley has seen 1 million meals redistributed to charities and community groups around the UK.

Barfoots have been providing much needed surplus fresh produce to FareShare since 2014, but were able to increase their support in 2020 after identifying more opportunities in their packhouses, and by making use of FareShare's Surplus with Purpose Fund.

The fresh produce Barfoots provide, including green beans, sweet potatoes and butternut squash, is highly valued by the 10,500 charities FareShare supports, because these charities are able to offer nutritious food, alongside life-changing support services, it said.

Not only does Barfoots relationship with FareShare help it support local communities, but it also helps cut food waste, water loss and limit CO2 emissions.

Keston Williams, technical director at Barfoots of Botley: "By working with FareShare we are able to act on more opportunities to redistribute food. We are delighted to support FareShare with its mission to reduce waste and provide nutritious vegetables to those in need. What started as a local relationship has now transformed on a national scale and reaching this huge milestone means a great deal to us."

Barfoots began working with its local FareShare warehouse in Sussex but is now working with the food charity across the UK, doubling the volumes redistributed in just six months, by identifying new opportunities for redistribution.
FareShare's Surplus with Purpose Fund has also helped Barfoots offset the additional overhead costs involved in repacking surplus produce, as well as reducing on-farm field waste for unsold crops, by helping to cover the costs of harvesting this produce.

This has resulted in a shift in business culture: previously Barfoots would have taken a business decision to send the produce to its anerobic digestion plant, rather than face extra costs in preparing the surplus for redistribution.
Now, if it is possible to divert food onto the plates of people, Barfoots will always aim to do this, and has embedded a process across all its packhouses to distribute surplus food to FareShare on a weekly basis, the grower said.

Lindsay Boswell CEO of FareShare: "A big thank you to Barfoots of Botley for providing 1 million meals through our partnership. This milestone is a testament to Barfoots commitment to reducing food waste and getting nutritious surplus food where it belongs, onto people's plates. Through their work with FareShare, they are helping support vulnerable people in our communities. Our work with Barfoots also highlights the importance of FareShare's Surplus with Purpose Fund which has enabled them embed a process across their organisation and divert good food away from waste and to its intended purpose, to feed people."