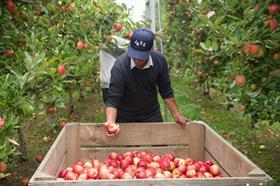 British growers have long looked east to their New Zealand counterparts with envy and admiration. Famed for its quality, Kiwi horticulture has had to undergo big changes since the withdrawal of subsidies in the 1980s, which led to much-publicised gains in productivity.
As a result, New Zealand is second only to South Africa in the volume of topfruit it exports to the UK during the British counter-season, sending core varieties such as Gala, as well as newer club brands like Jazz and Pink Lady. Companies like T&G Global have one mantra, according to director of international sales Rachel Stotter: "It's all about consistency of quality, delivering a great eating experience, servicing our retail customers effectively, and improving distribution points so more consumers can try our great-tasting Jazz."
The group also has its sights set on further success, pushing a new club variety on UK shores, with a fitting name given New Zealand's horticultural success. "We are also developing Envy and starting to roll out this exciting newer apple variety across customers with really positive results to date. We've recently exhibited at the BBC Good Food Show and again were blown away by the hugely positive reception Jazz gets from consumers," Stotter says.
Happy days then for New Zealand topfruit, but there are signs that UK growers are eager to take a bigger bite of the apple, so to speak, and recoup greater market share from the New Zealand imports. Last autumn's launch of a new English Apples and Pears strategy to increase home-grown market share from 40 to 60 per cent by 2030 shows the ambition that British growers now have to reclaim top spot in UK topfruit.
With the NextGen Fruit Group announcing its next international tour to New Zealand in 2021, it's clear that the country is in the UK's sights. Indeed, market data shows import volumes fell in 2018 by a little over 2,000 tonnes, to a total of 45,825t of apples and pears.
Thomas Lowes, director of Fruit Vision, says: "It is fantastic to see the UK growers living up to the potential on topfruit production, and while I am a great believer of real seasonality in product, some UK growers seem keen to explore going 12 months with Royal Gala and I can see many benefits to this."
Part of this drive to expand home-grown produce across Europe is already revealing itself in smaller windows for southern hemisphere produce.
"The window for sales of New Zealand produce is smaller than I have known it for many years, with top-quality European apples (UK included) still available in parcels right now. The new crop of European fruit will likely be at the start of August," Lowes adds.
"In the coming seasons, my programmes will have to be even more carefully considered, factoring in remaining local volumes and potential season end dates of the outgoing northern hemisphere crop."
T&G has also noticed a similar trend this year, with a smaller window for key varieties Braeburn and Royal Gala.
"Generally we are on track and had a smooth transfer between UK/northern hemisphere Jazz and southern hemisphere seamlessly switching with key retailers to maintain consistent supply and quality.
"Other topfruit varieties are a little trickier, with carryover of Braeburn and Royal Gala stocks in particular. The quality of the fruit from New Zealand is looking exceptional. Chile has also had a great year quality-wise in terms of Jazz and it kicked off our UK selling season really well."
It's no secret that with Asia on its doorstep, New Zealand has a hungry market willing to pay premiums at closer quarters than Britain. "New Zealand still sees the UK as a key market," says Lowes. "However, they are under no illusion that the volumes from Europe are causing the issues mentioned above, with fruit available far later into the season, thus shrinking their window for sales. Therefore the producers in New Zealand will continue to develop new markets to ensure they clear their volumes each season. It is very much the case that New Zealand is less reliant on the UK market than they were ten years ago."
Stotter notes that the UK remains a priority for exports though, especially when it comes to Jazz, as this year's market shows. "There's a greater percentage of smaller-sized fruit from New Zealand, but for Jazz the UK takes priority and we ensure the correct and preferred sizes are shipped there," Stotter explains.
Indeed, T&G is still keen to expand the varieties' presence in the UK, with new marketing strategies aimed at bolstering the already successful Jazz brand. "We are producing some eye-catching retail display tools that will bring Jazz to the forefront of consumers' attention in what can be very generic fresh produce displays. Retailers have responded positively to them and we think consumers will as well."