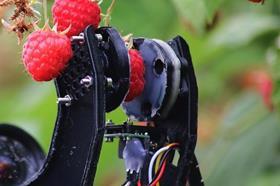 A raspberry-picking robot venture has raised nearly £300,000 from an initial equity funding round.
The one-armed berry bot, based on human muscles in the arm, uses deep learning to build a database of raspberries which it can memorise and classify to pick the ripe fruits.
The project, dubbed Fieldwork Robotics, is a University of Plymouth spinout headed by Dr Martin Stoelen. The robot successfully completed two field trials last year in collaboration with Hall Hunter Partnership.
The university says the proceeds of the latest funding round will be used to accelerate the development and scale-up of its novel robotics technology for harvesting soft fruit and vegetables.
As part of the fundraising, Frontier IP, the University's commercialisation partner, converted a loan of £48,000 into equity, with £250,000 being raised from new investors. The funding round values the spinout at just over £5million.
Speaking about the project last year, Dr Stoelen said: "These initial robots will not replace manual labour. What we expect is that they will be able to pick the more accessible fruit with human pickers there to pick the fruit which the machine isn't yet able too.".
"The challenge with designing robots such as these is not just in the delicate nature of the raspberry, but also ensuring they can cope with having people around them, as well as other complicating factors such as poles, sunlight and complex foliage."
The company's work to date has been supported by a £547,250 Innovate UK grant, as part of a £671,484 project to develop the multi-armed robot prototype. Other partners in the project included the University of Plymouth and the National Physical Laboratory.
Dr Stoelen has also received £216,000 from Agri-Tech Cornwall – a three-year, £9.6 million initiative part-funded by the European Regional Development Fund, with match-funding from Cornwall Council – for a project to develop robot systems to harvest cauliflowers.
He is also working on a tomato-picking project in partnership with Shanghai Jiao Tong University, which has received funding from the Agri-Tech in China: Newton Network+ (ATCNN) fund.