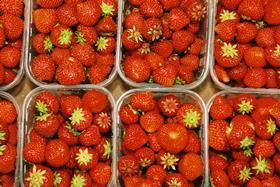 Strawberry and raspberry prices in retail and wholesale markets have been slashed due to a 'compressed' market following a delayed growing season in Europe.
With a large number of British strawberries arriving at once retailers decided to offload Britain's favourite berry with an array of discount deals in larger punnets.
Tesco is selling two of its £2 400g punnets for £3, while Sainsbury's reduced its 400g punnet from £2 to £1.60. Aldi were offering large punnets for £2.95 after picking up an extra 112 tonnes of strawberries off growers, to help them during the glut.
Raspberry prices also tumbled in wholesale markets at the start of June, thanks to poor spring weather for European neighbours Spain, whose late berry yield has clashed with Morrocan imports, saturating the market.
Nicki Baggott, Waitrose strawberry buyer, said: 'We do everything we can to support our growers during seasonal fluctuations. Strawberries love the sunshine and with the recent rise in temperatures, we've seen a bumper crop of the delicious summer fruit making its way to our shelves.
"As our yields are up, we've reduced our prices to reflect this. In particular, our exclusive Summer Blush Strawberries, are growing extremely well and are perfect for our customers to use in their puds, pavlovas and Pimm's.'
BerryWorld sales director Paul Avery said large numbers of strawberries had arrived at once, creating a 'compressed' market, thanks to a cold winter: 'What's happened is the season has been pushed back late due to the poor spring weather, and then that fruit comes in a more compressed manner.
"The season started off a couple of weeks late, and the whole industry was back around 20 per cent on volume, but we have probably caught up now due to the warm weather. So you get more volume over a compressed period of time."
Avery said while shoppers might enjoy the low price deals, the compressed volumes "bring a sense pressure in the market place".
"It's not a sustainable way of selling strawberries, but it's a way of moving fruit through and passing it on for great value to the customer."
Nick Marston, chairman of British Summer Fruits, said current raspberry discounts aren't down to a homegrown glut however, with the UK season yet to get underway.
"The low price of raspberries is a result of heavy supply of Spanish raspberries, rather than a glut of British raspberries. The UK season has hardly started yet in Britain, very limited volumes in the UK are making good premium prices."
Avery added: "After poor weather in Iberian countries, we have ended up with late raspberry products from Spain that have saturated imports. The Spanish and Moroccan products have been saturated, that's kept the market prices low.
"We'll probably see another week of imports and then a switch to the UK outdoor crop, although that is late too."