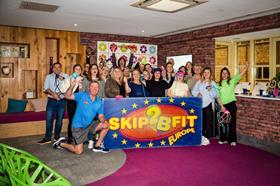 BerryWorld has strengthened its partnership with Skip2bfit to support its mission to promote an active and healthy lifestyle through skipping workshops.
An estimated two million people have participated in the workshops since John McCormack founded Skip2bfit in 2002. The programme combines a skipping challenge with healthy eating.
BerryWorld and grower Stephen Taylor, managing director at WinterWood Farms, have been supportive of the initiative and have helped give away over £1,000,000 of fresh blueberries in schools across the country.
This year marks Skip2Bfits 20thanniversary and the goal is to support more children and adults to improve their health across the country.
"As a business we are very much aligned with Skip2bfit values of promoting a healthy lifestyle with our delicious berries," said Paul Avery, sales director at BerryWorld UK.
"We decided to kick-start our 2022 partnership with an internal skipping challenge a few days ago at our offices. It was a great opportunity to see in person how brilliant these workshops are whilst having great fun as a team."
As part of the partnership, BerryWorld will be sponsoring over 80 school skipping workshops in the UK so that schools can benefit from discounted workshop rates. The schools then enter a six-week programme during which children can beat their initial scores.
McCormack said: "The fantastic support we have had from BerryWorld and Winterwood Farms over the years has been brilliant in delivering that message.
"We believe the best time to educate about healthy eating is after exercise and what better way than with a box of blueberries that are bursting with goodness. This further support now will help us continue that message and inspire more children to Skip2Bfit and eat healthily."
In April BerryWorld will also launch a campaign on Ocado to donate 5p from every branded pack sold to fund Skip2bfit activities.
Additionally, the BerryWorld team will be volunteering and supporting Skip2bfit at key events and school workshops this year, starting with an 'MP challenge' on the 11 May at the Houses of Parliament.