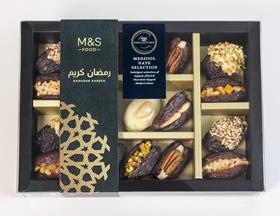 Dried fruit and nut giant Besana has launched a special medjool date selection box at M&S ahead of Ramadan, which this year begins on 12 April.
The supplier has a keen interest in producing customised products for festivities across the world and has created a number of tailored luxury lines over the years.
The Medjool Date Selection 'Ramadan Kareem', which translates as 'may Ramadan be generous to you', contains topped, filled and chocolate-coated Medjool dates filled with a variety of nuts, coconut and orange.
Besana's carefully crafted creations are packed in a square 350-gram tray, with a transparent cover and a dark green sleeve, an important colour in Islam. The product's luxurious appearance makes it "the perfect gift box", Besana said.
"Ramadan is an important festivity for many people across the world, and we hope that UK customers will enjoy our exquisite selection. RamadanKareem!" said Besana's R&D manager Rita Iacoviello.