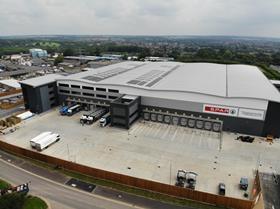 Wholesale and retail group A.F. Blakemore & Son said it is satisfied with a year of progress despite being significantly hit by the pandemic.
A.F. Blakemore's group sales for the financial year ending 24 April 2021 declined by five per cent from the previous year, falling from £1.053bn to £1.001bn.
The company said its foodservice and wholesale customers across the travel, tourism, leisure and educational sectors were heavily disrupted by the Covid-19 pandemic, but added that its multi-channel strategy enabled the business to meet changing demands and utilise its workforce to good effect.
Pre-tax profits remained in line with the previous year at £6.1m due to 'effective cost control and stable margin performance', while shareholders' funds and net assets grew from £85.7m to £98.6m.
Chairman Peter Blakemore said: "I am pleased to report that the company made good progress during the period to 24 April 2021, when the business had to meet a full year of unprecedented challenges caused by the Covid‑19 pandemic.
"As a result of great customer service and an investment in pricing, we enjoyed good sales across our community-based SPAR convenience stores, with consumers shopping more locally, and whilst less frequently, with a higher basket spend.
"Our teams worked hard to maintain robust service levels both in-store and across our distribution network throughout the financial year."
Ongoing investment
A.F. Blakemore said it has continued to invest during the past 18 months as part of its commitment to growing a sustainable business for the future.
In the summer, the company opened a purpose-built, 165,000 sq ft distribution depot in Bedford that will provide the cornerstone of future infrastructure and logistics capability. The multi-temperature, energy-efficient site has provided the business with additional supply-chain capacity to better serve customers in London and south-east England.
Across its SPAR retail estate, A.F. Blakemore has continued to implement its store cluster strategy, which aims to deliver store propositions aligned to the needs of consumers, with a focus on food for now and food for later. The business has also expanded its home-delivery service across company-owned stores.
The company has invested in new online ordering platforms, driven by machine learning and artificial intelligence, for SPAR retailers, wholesale distribution and foodservice customers.
Good start to 2021/22
Despite market volatility, sales in the first quarter of 2021/22 were 12 per cent ahead of the prior year as a result of the solid retention of convenience store volumes, the strong recoverability of Covid-impacted channels and growth from new customer accounts.
Blakemore said: "As a result of our strong sales performance and investment in our infrastructure, I believe that the business is well positioned to navigate the current supply chain challenges and to deliver our growth aspirations.'