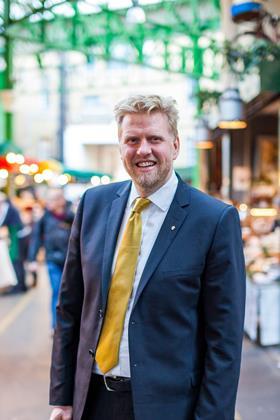 Borough Market has welcomed new funding for its traders who had previously been excluded from government financial support.
Following a campaign by the market's constituency MP Neil Coyle, a loophole that meant the market's food traders were not entitled to government grants has been closed by business secretary Alok Sharma.
In an announcement made at the weekend, an extra £617 million in grants were made available to help small businesses in financial difficulties due to the lockdown. Small businesses who did not pay business rates – a group which included many market traders – had not been able to access the previously-announced £12 billion government small business support fund.
The issue had been highlighted by Bermondsey and Old Southwark MP Neil Coyle after the market's management alerted him to how the loophole meant many of the market's traders faced ruin because of it. The market pays business rates on behalf of its traders, meaning the individual businesses could not claim the grants as they were classified as non-business rate payers.
Darren Henaghan, managing director of Borough Market, explained: "Our traders had effectively fallen through the gaps in the floorboard of the government scheme for small businesses and have suffered considerably as a result.
"Thankfully Neil Coyle was alive to the issue and campaigned to get this loophole closed. We are hugely grateful to him."
Coyle, who wrote to Chancellor Rishi Sunak to raise the issue, said: "In the current circumstances, the traders deserve all the support they can get. I am delighted that this unfortunate discrepancy has been resolved.
"Due to the unique makeup of the market, the traders were denied access to the grants available to other small businesses. I am sure this was unintentional. Having already come through the 2017 London Bridge terror attacks to prosper again, it is crucial the traders get support at this crucial time."
It is anticipated that approximately 120 traders from the market's community will be entitled to the grants of up to £25,000.
Despite suffering a drop in visitor numbers of about 90 per cent, the market remains open on six days a week. It is maintaining social distancing rules by limiting access to 800 customers at any one time under its "Come, Shop, Leave" guidelines.