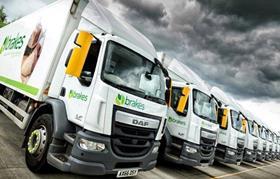 Foodservice providers Brakes and Bidfood delivered more than five million shield packs across England and Scotland to clinically extremely vulnerable people during the four-month government shielding programmes, the two companies have revealed.
The initiative was launched to ensure that vital food supplies could reach Britain's most vulnerable people during lockdown. Involving more than 3,000 employees from Bidfood and Brakes, it has been described by some as the largest effort to feed the nation since the Second World War.
The boxes contained more than 20 products, and in total Bidfood and Brakes delivered approximately 4.7 million packs in England and 800,000 packs in Scotland.
Environment secretary George Eustice said: "I want to thank all those involved at Brakes and Bidfood for the sterling work they have done to get food to the most vulnerable people in our society. Together they have packed and delivered 4.7m food parcels across England – a truly outstanding effort in such a short space of time.
"While the food boxes have come to an end, those who had registered for them will remain eligible for a priority supermarket delivery slot and the NHS Volunteer Responders Programme will continue to provide support with getting food, prescriptions and essential items to those who are self-isolating for any reason."
In a joint statement, Alex Mayfield, director of supply chain and operations at Brakes, and Jim Gouldie, supply chain and technical services director at Bidfood, said: "Everyone involved across both businesses have been so proud to have played a part in helping some of the nation's most vulnerable people at a time when supporting them was so crucial. We had this scheme up and running in a matter of days and since then, every morning, hundreds of vehicles have left our depots carrying thousands of essential supplies across the country to those who need them.
"The number of calls, letters and messages on social media that we've received have been amazing. Our drivers have heard first-hand how these boxes have been a lifeline for the clinically extremely vulnerable receiving them throughout lockdown and we're delighted to have been able to be a part of such a critical programme."