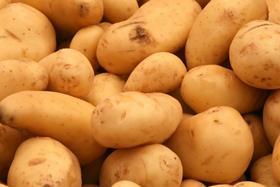 Potato supplier Branston has begun work on its £5 million factory extension that will process potatoes destined for the convenience sector and create 20 new jobs.
The 1,700 sq ft expansion will cater to ongoing demand for convenient meal solutions, the company said, as well as helping to reduce food waste by processing potatoes that don't meet class one specifications.
Potatoes that are not suitable for the fresh market will be peeled at the new site before going to convenience food producers as part of mash potato ranges, or as a topping for pies or casseroles.
The investment will also create more than 20 jobs in operational, technical, engineering and supply chain roles.
Branston technical director Mark Willcox said: "We'll be adding value to potatoes that don't make it into a pack as a class I product, which is a great way to reduce food waste – a real win for both farmers and consumers.
"We supply prepared vegetables to the UK's top retailers and this extension will go a long way to help us meet the growing demand we're seeing in this area. We expect that this new business-to-business part our customer portfolio will continue to grow alongside the very successful chilled prepared vegetable lines that we currently sell to the country's leading supermarkets."
The new high-tech facility is designed for high throughput, flexibility and space efficiency, Willcox added.