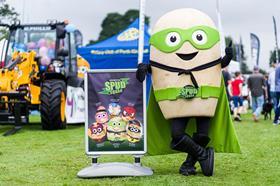 Potato supplier Branston has been using its superhero 'Spud Squad' team to provide fun activities and potato-based recipes for families stuck at home.
Each summer the Spud Squad travels across the country to bring potato-themed fun to kids at agricultural shows and countryside days out. Due to the coronavirus pandemic and the cancellation of this year's events, Branston has instead adapted and transferred its activities online to the Seasonal Spuds website.
The site features games, challenges and mini craft projects for children of all ages designed to inspire investigation and creativity, as well as a range of free downloadable activities. A new Spud Squad section will feature on the site, where a selection of fun new tasks will be released every week during the lockdown.
Extra recipes and a range of healthy and exciting home-cooked meals will also be available to help parents create new dishes using basic store cupboard ingredients and leftovers, as well as inspiring kids to get involved in the kitchen.
Jackie Baker, communications manager at Branston said: "Due to the coronavirus pandemic our Spud Squad team aren't able to attend the shows this summer, so we've adapted some of our favourite hands-on activities and developed a selection of new ones into online resources on our Seasonal Spuds website. While families are at home and looking for exciting things to do, this is a great opportunity to have some fun and learn a bit about food, farming and nutrition.
"We also have some recipe ideas for parents who might be struggling to create new dishes with the ingredients they have, and we want to encourage children to help out with the cooking too.
"We can't wait to see everyone's ideas and creations, which they can share with us on social media by tagging Seasonal Spuds and using our dedicated hashtags. Look out for our Spud Squad social media competitions too."
Families can share their recipes and potato creations by uploading images to social media, tagging @seasonalspuds and using the hashtags #spudsquad and #toptatietips.
Seasonal Spuds is a consumer initiative by Branston aiming to champion the health benefits, versatility and affordability of potatoes, as well as inspire consumers with recipes, competitions and information.