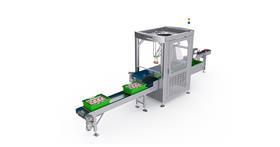 Automated packing specialist Brillopak has improved its award-winning UniPAKer robotic crate packing platform with the introduction of single, double and triple-head versions of the system.
Brillopak said the ability to incorporate one, two or three parallel arm delta robots into a single crate packing cell enables the design of flexible systems for finding the best balance between speed and gentle handling.
The upgrade follows the success of its dual robot cells in fresh produce applications.
"Whilst delta robot heads might boast mechanical speeds in excess of 120 picks per minute, such high speeds can only be achieved in real life on very straightforward crate/case packing applications such as packs of biscuits," explained Peter Newman, technical director at Brillopak.
"It is very unlikely that any packaging automation supplier who is handling delicate or awkward products like flow-wrapped apples, bags of carrots or tray-sealed meat would be able to achieve anything close to those kinds of speeds without damaging the product in the process;it simply isn't possible."
He added: "That is precisely the reason why we have developed single, dual and triple robot configurations for our UniPAKer packing system – to help our customers meet their performance and payback objectives without making false promises."
Working on the premise that most fresh produce packs – whether punnets of soft fruit, bags of sprouts or flow-wrapped packs of peppers – can be packed into crates using a single robot head at speeds of 30-40 packs per minute, Brillopak syas its UniPAKer can double or triple those speeds to achieve a customer's target by adding a second or third robot head.
The company explained that each robot takes it in turn to take a pack off the infeed conveyor and position it precisely in the crate, so the desired crate presentation is achieved twice or three times more quickly than with a single robot.
To help maintain a compact footprint, simplify operation and minimise capital outlay, the entire system is centrally controlled and the robots share a vision system, infeed and outfeed, regardless of whether it is a dual or triple configuration.
The 70-80 ppm speed capabilities of the dual-head UniPAKer are well suited to flow wrapping lines handling fruit and veg such as apples, sprouts, tomatoes, peppers and pears, with or without a supporting tray.
Brillopak said its triple-head system has been conceived with difficult-to-handle or bulky products in mind. The company is currently building its first triple-head UniPAKer cell for a supermarket customer with the goal of packing bags of carrots into plastic retailer crates at speeds of 100 ppm.
Carrots, for example, are a difficult product to handle as each bag of the same weight is a different shape and size, therefore the robot has to slow down to perform the pick and position the pack in the crate. Too much speed will result in the bag falling out of the gripper or an untidy crate presentation.
Using a single robot head in conjunction with a flexible finger gripper, the UniPAKer can handle carrots at speeds of 37 ppm per head. A triple-head system can achieve over 100 ppm, which should enable the customer to meet its two-year payback target.
Another potential application for the triple-head UniPAKer is for placing products such as peppers into the pocket of the flow wrapper. Using three robots operating at 60 picks per minute, the UniPAKer would be able to match typical flow wrapper speeds.