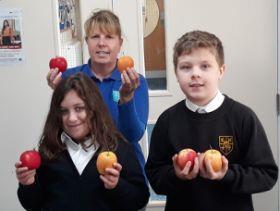 Children's educational initiative Kids Country has helped facilitate a bespoke food and farming activity focused on British apples.
Kids Country is the East of England Agricultural Society's education programme for children in Key Stages 1 and 2. The programme delivers hands-on learning experiences for children, based around food, farming and the countryside.
Last week's event took place at Werrington Primary School and featured apples donated by grower Richard Hochfeld.
Ellie Chase, a Year 6 teacher at Werrington Primary School, said: "It was a fantastic day, based all around apples organised by Sandra at Kids Country. The children taste tested four varieties of apples and rated them, had a go at making an apple crumble from scratch, learnt about the process from orchard to the shops and looked scientifically at the inside of an apple. The children absolutely loved the day and are all definite fans of the new Sunburst variety!"
Sandra Lauridsen, education manager for Kids Country, added: "It is really pleasing to have been able to help Werrington Primary School with a bespoke food and farming education activity, getting children really engaged in learning about British apples which are perfectly in season at the moment. Kids Country will always try and find a way to help schools, even if it is in facilitating activities that don't fit within our normal events programme – we are always here to help."
Kids Country also supported a local home-schooling group in their own day learning about apples, with student Isobel saying: "Thank you for the delicious apples. I preferred the Sunburst variety because it was a new taste and it tasted really fresh and scrummy. I loved the colour inside when it was cut open - it looked just like a sunburst and inspired me to write a poem."
Enjoyed this free article from Fresh Produce Journal and its team of editors? Don't miss out on even more in-depth analysis, plus all the latest news from the fresh produce business. Subscribe now to theFresh Produce Journal.