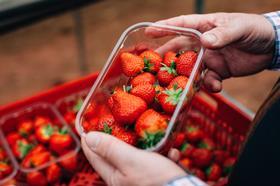 Aldi's first British strawberries of the new season are set to hit shelves this week.
The supermarket said its suppliers have 'pulled off a huge logistical effort' to get the fruit in store from Thursday 18 February, representing the third time that Aldi has had home-grown strawberries in store in February.
The strawberry season continues to begin earlier due to innovation in growing conditions and warmer climates, and the discounter highlighted the work of its supplier John Lloyd, who farms in the Vale of Glamorgan. 'There's always a buzz around when the first British strawberries will be picked and using advancements in growing techniques, we're able to become one of the first to harvest our fruit,' said Lloyd.
"We're really proud of these strawberries, they're a great example of fine British produce, and we're delighted to get them to fruit lovers as early as possible."
The first shoppers to be offered the punnets will be in Hereford, with the Eign Street store set to be the first to receive them. Further punnets will then be delivered into stores across the UK.
Julie Ashfield, managing director of buying at Aldi, said: ''We're increasing the amount of food and drink we buy from British suppliers by £3.5bn a year, which will create even more opportunities for British food and drink producers.
"Working so closely with these wonderful British growers lets us bring our customers the freshest British produce and respond quickly to what they want. This year, people are looking to start summer early and make the most of what it offers, and we're very happy to help".