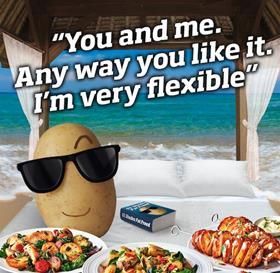 Hot potato Bud the Spud will make his television debut this summer as part of a £100,000 marketing push.
AHDB has refreshed its More Than a Bit on the Side campaign to support retail sales of potatoes in the wake of Covid-19.
The new push will target consumers through social media, digital displays outside major supermarkets and a television advert, which will broadcast on the ITV Hub.
The tongue-in-cheek campaign, which features saucy character Bud alongside a range of suggestive slogans, aims to inspire home cooks to add an extra potato meal to their weekly repertoire.
Running from May to July, the campaign highlights the ease, versatility and health benefits of potatoes by offering inspiration and knowhow with more than 150 recipes at Lovepotatoes.co.uk.
AHDB Potatoes strategy director Rob Clayton said: "We had a brilliant response to Bud the Spud's suggestive meal ideas during the original campaign. With so many of us cooking more at home and looking for new ideas to keep mealtimes interesting, it's time to remind people the humble spud can take centre stage."
The campaign is part of a range of measures to support the potato industry through the coronavirus crisis, the levy body said. Growers have been hit by the near-total closure of the foodservice sector, leading to estimated stocks at the end of March reaching 1.19 million tonnes, 20 per cent higher than the same time last year.
While #MoreThanABitOnTheSide is designed to drive demand via retail channels, AHDB has launched an online trade portal to connect growers with buyers and help address imbalance in the market.
It has also compiled storage advice for provide growers with additional information for those who need to store potatoes for longer than expected.