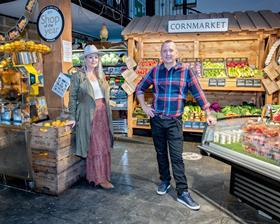 Business and consumer expert Kate Hardcastle is working with the Farm Retail Association to help UK farm shops enhance and showcase their offering.
After seeing a surge in demand from people using farm shops to buy local produce during lockdown, farmers are urging customers to continue to support local retailers as shoppers resume their normal routines and head back to the supermarkets.
While Twitter reported a dramatic increase in online conversations (+111 per cent), about shopping local and supporting small businesses during lockdown, many independent stores are reporting a drop in the number of new customers through their doors, according to FRA.
Hardcastle and her team from Insight with Passion (IWP) will be supporting farm shops across the UK with a series of initiatives aimed at helping farmers to understand and adapt to changing consumer demands and the current retail environment, promote and market their shops and enhance the customer experience.
This work will be completed free of charge, via IWP's Access for All programme, which sees the business donate 20 per cent of time as standard to supporting small businesses and community projects. Over the past decade, the scheme has supported over 1,000 projects.
FRA chair Rob Copley said: "British farmers quickly adapted their farm shop operations to safely serve customers throughout the coronavirus pandemic and they really stepped up to serve their customers and their communities. This meant that shoppers had access to high-quality, fresh local produce throughout the pandemic, often when supermarket shelves were empty. By working with Kate, we want to build on this great work and help farmers remind shoppers that we're still here and open for business."
Hardcastle added: "Myself and the IWP team have been helping many small businesses throughout the pandemic and we're really pleased to be supporting British farmers. Now more than ever we need to support them by shopping locally where we can and balancing where we shop, based on our time and budgets. We want to showcase the benefits to consumers of buying locally sourced British produce, such as the freshness and provenance and the associated sustainability benefits like less food miles and reduced plastic consumption."
In addition to supporting the Farm Retail Association, IWP said it is supporting the UK agricultural industry in a number of ways, including via Hardcastle's appointment to the advisory board for the Women in Food and Agriculture Summit 2020.