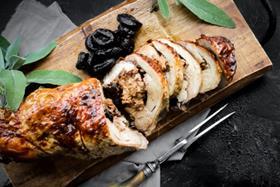 Two festive favourites have been given a modern twist by the California Prune Board's UK brand ambassadors, Peter Sidwell and Stefano Collomb.
The pair, who recently renewed their respective partnerships with the Board, have created yuletide dishes that showcase the versatility of California Prunes to both the food industry and consumers.
"Renowned for their premium nature and natural sweetness, California Prunes are a nutritious ingredient that add texture and flavour to sweet and savoury cuisine, ranging from meat-based recipes to breakfast and dessert," the board said.
With around 10,000,000 turkeys consumed in the UK each Christmas, chef, baker and TV presenter Peter Sidwell has chosen to infuse Californian sunshine into the traditional festive bird with his Turkey leg stuffed with California Prunes, walnut and baconrecipe.
"California Prunes can be used in a range of festive dishes, from starters and sides through to the main event, the turkey," said Sidwell.
"They're tasty, high in quality and nutritious, andbring any type of cuisine to life thanks to their rich flavour and sweetness."
Meanwhile Italian master-chocolatier, Stefano Collomb has created a new panettone using prunes, which can add moisture and texture to baked goods, and partially reduce the fat and sugar content.
Statistics show almost half of Italians favoured panettone as their preferred festive dessert last year, and it's likely to remain firmly on this year's menu.
Stefano noted: "I have reinterpreted the classic Christmas panettone with California Prunes. Not only do they add a naturally sweet taste, they make the dough softer and tastier."
Kevin Verbruggen, European marketing director for the California Prune Board added: "With the pandemic leading to local restrictions around the globe, Christmas is likely to be a very different experience for many this year.
"For those who are looking to liven up their home-cooked, festive feasts, California Prunes are a natural wonder, adding texture, sweetness and flavour to any dish."